Project:
ESR-9: PhD at Technische Universität Dresden, Germany
Topic:
Triplet harvesting in vacuum deposited organic solar cells
Researcher (ESR):
Mr. Lukasz Baisinger
Supervisor:
Prof. dr. Karl Leo
Triplet harvesting in vacuum deposited organic solar cells
The researcher will fabricate organic thin films and complete organic photovoltaic devices using vacuum deposition techniques. These devices will be characterized by standard device performance measurements, supplemented by advanced spectroscopic and microscopy measurements. Also lifetime tests of new organic photovoltaic devices will be conducted. The research will focus on how triplet states can be used to improve the power conversion efficiency in these photovoltaic devices.
Internships (Secondments) at Kurt Lesker GmbH involving thin film processing and at CSIC-ICMAB for microstructural studies are planned.
Links:
www.iapp.de
https://tu-dresden.de/mn/physik/iap/optoelektronik/startseite/
The Technische Universität Dresden (TUD) is one of the nine leading technical universities in Germany. In 2012, it became one of the eleven German universities funded by the excellence initiative for outstanding performance and achievements in research and teaching. Today, about 35,000 students, about 10% from abroad, are enrolled. The Institut für Angewandte Photophysik (IAPP), founded 1908, has been working on organic semiconductors since 1985. Currently, more than 100 people are working at IAPP. It has an excellent international reputation, spun off four companies, and its members have received numerous awards in the field of Organic Electronics, including the German Future Prize (endowed 250.000€).

Lukasz Baisinger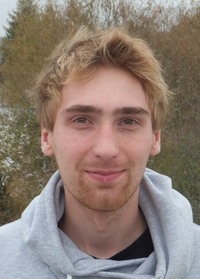 Born 9. June 1991 in Wroclaw, Poland, graduated from Wroclaw University of Science and Technology, Faculty of Microsystem Electronics and Photonics, focusing on III-V group semiconductor technology and (opto-)electronic devices. For two years employed as a process engineer in Wroclaw Research Centre EIT+, working with Ink-Jet printing of functional and meta- materials and work-function-engineering of (reduced) Graphene Oxide. Currently doing PhD in Dresden Integrated Center for Applied Physics and Photonic Materials (IAPP) at Technische Universitat Dresden.
Bewaren
Bewaren
Bewaren