Project:
ESR-10: PhD at Heliatek Gmbh, Germany
Topic:
The influence of spin on the competition between charge extraction
and recombination in vacuum processed organic solar cells
Researcher (ESR):
Mr. Ivan Ramirez
Supervisor:
Dr. K. Walzer
The influence of spin on the competition between charge extraction and recombination in vacuum processed organic solar cells
The researcher will fabricate of organic thin films and complete organic solar cells using vacuum deposition. The energy losses, as well as charge and triplet state dynamics during the generation, recombination and extraction of charge carriers will probed. The identification and investigation of the triplet back recombination and the quantification of this process will help to understand the interplay between molecular design and energy losses in the photovoltaic devices.
Secondments at TUD for transport and recombination measurements and RUG for ultrafast spectroscopic measurements, are planned.
Links:
http://www.heliatek.com/en/
www.iapp.de
https://tu-dresden.de/mn/physik/iap/organische-photovoltaik
The Technische Universität Dresden (TUD) is one of the nine leading technical universities in Germany. In 2012, it became one of the eleven German universities funded by the excellence initiative for outstanding performance and achievements in research and teaching. Today, about 35,000 students, about 10% from abroad, are enrolled. The Institut für Angewandte Photophysik (IAPP), founded 1908, has been working on organic semiconductors since 1985. Currently, more than 100 people are working at IAPP. It has an excellent international reputation, spun off four companies, and its members have received numerous awards in the field of Organic Electronics, including the German Future Prize (endowed 250.000€).

Ivan Ramirez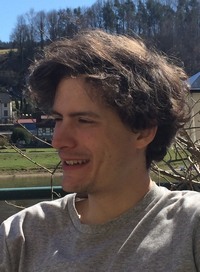 Ivan Ramirez obtained his M.Sc. in theoretical physics from Imperial College London in 2013. He then joined the Riede group in the Physics Department of the University of Oxford where he was the first doctoral student and helped build the experimental physics laboratory. His PhD focused on the photostability and photophysics of C60 and the use of fullerene derivatives as transport layer in perovskite solar cells. He is now a SEPOMO early stage researcher at Heliatek GmbH in Dresden, Germany, where his research interests will include open-circuit voltage losses and the development of non-fullerene acceptors compatible with large-scale vacuum deposition.
Bewaren
Bewaren
Bewaren
Bewaren
Bewaren
Bewaren
Bewaren
Bewaren
Bewaren
Bewaren
Bewaren