| | |
| --- | --- |
| Job Advertisement: | ESR-12: PhD at the Institute of Materials Science Barcelona, Spain |
| Topic: | Nanoscale morphology and microstructure of organic thin films |
| Supervisor: | Dr. Esther Barrena |
| More info: | This email address is being protected from spambots. You need JavaScript enabled to view it. |
| Application date: | CLOSED FOR APPLICATIONS |
| Starting Date: | No later than 1 October 2017 |
| Duration: | 3 years |
Nanoscale morphology and microstructure of organic thin films
The Marie Curie Initial Training Network SEPOMO (Spins in Efficient Photovoltaic devices based on Organic Molecules) is recruiting 1 PhD position (early stage researchers). The goals of are to bring the performance of organic solar cells (OSCs) forward by taking advantage of the so far unexplored degree of freedom of photogenerated species in organic materials, their spin. The consortium is formed by research institutes, universities and companies with strongly complementary expertise in structural, photophysical, spin measurements and device characterization. All these aspects are relevant for the definition of a structured interdisciplinary training programme and the development of competitive photovolatic technologies.
In the frame of SEPOMO, this project will address the role of the microstructure on the charge separation dynamics and degradation of OSCs. The PhD candidate will carry out a structural and spectroscopic investigation on novel tailor-made donor materials for enhancing the photovoltaic performance. The PhD candidate will receive specific training in structural and morphological methods (using local-probe and synchrotron-based techniques) at the Institute of Materials Science of Barcelona (ICMAB-CSIC, Spain) and in time-resolved spectroscopies at Technische Universität Chemnitz (TUC, Germany). The central part of the work will take place at the ICMAB-CSIC in Barcelona, a research organization located on the Campus of the Universidad Autonoma de Barcelona that belongs to the centers of Excellence "Severo Ochoa" in Spain. There are planned secondments of 4 months at TUC (Chemnitz, Germany), 3 months at Rijksuniversiteit Groningen (RUG, Holland) and 2 months at Fundacio EURECAT (Barcelona).
A complete training program will include participation in 4 specialized network schools on organic Solar Cells and in 5 training workshops on complementary and transferable Skills.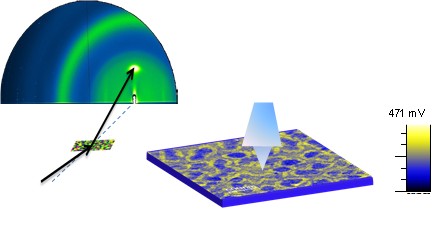 Contact:
Dr. Esther Barrena
http://departments.icmab.es/surfaces/
Requirements:
Candidates must hold a Master degree (or equivalent) in physics or material science at the time of the recruitment. Knowledge in solid state physics, surface science, creativity and good communication skills are highly desirable. Good command of English is also required.
Bewaren
Bewaren
Bewaren
Bewaren
Bewaren